ADENA
Thomas Worthington began building Adena in 1802, after only five years in frontier Chillicothe,Ohio. He wanted a real plantation manor, like those that symbolized success in his native Virginia; and so he modeled Adena on Harewood, a plantation near Charles Town, now West Virginia, in the area where he'd grown up.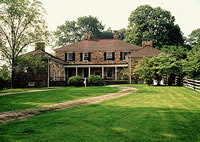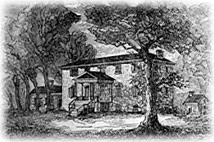 Adena had 5,000 acres of land---a "yard" that provided the house's sandstone and walnut, ash and oak. Though Worthington went on to run a farm, distillery, land office and mills, he's best remembered for his role in helping Ohio become a state. As winter loomed in late 1802 he set off on horseback to take the Ohio constitution to Washington for Congressional approval. In the capital he dined at President Thomas Jefferson's. Perhaps there he also met Benjamin Latrobe, then one of the nation's few architects; surviving correspondence shows that Latrobe helped Worthington plan the house.

Because of Worthington's importance in early Ohio---he became both a Governor and a U.S. Senator---his house has been an Ohio Historical Society museum since 1953; before the 2003 Ohio Bicentennial, it had a $7 million refurbishing. The house is U-shaped in floorplan with a two-story central section and story-and-a-half wings in front. Originally it was so ambitious that, says former site director Mary Anne Brown, "It was a challenge to himself---to grow to be worthy of his house."

Jane Ware's recent book, Building Ohio: A Traveler's Guide to Ohio's Rural Architecture, is available through the publisher, Orange Frazer Press, or online bookstores.
Photos of Adena and Chillicothe, courtesy of the Ross-Chillicothe Convention and Visitors Bureau Image of Harewood, courtesy of James Madison Center, James Madison University, Harrisonburg, VA