THE REAL "JOHNNY APPLESEED?"

The American frontier bred giants - and the stories of their exploits grew with each generation's retelling. Today we wonder who (and if) they really were. Johnny Appleseed is a legendary frontier character - and the myth surrounding his story is being questioned by historians today. Perhaps the biggest misunderstanding has to do not with who he was, but what he did. Tradition has it that Johnny Appleseed planted the first orchards ever to blossom in Genessee Country. This University of Rochester piece on Frontier Fruit Growers sets the record straight.
Johnny was a man named John Chapman and he planted his seeds over an estimated 100,000 square miles of Pennsylvania, Ohio, Kentucky, Illinois and Indiana. Today, Johnny Appleseed's fame has spread across the land.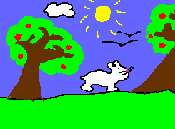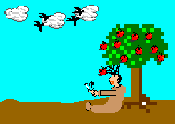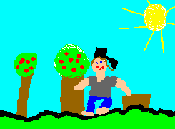 By permission of Highland Park Elementary, Austin, Texas.