LEEDS, MAINE CELEBRATES
| | |
| --- | --- |
| The Civil War had a major impact on the people of Leeds, Maine, and the experience is still central to communal memories in the town. At 5:30 pm on Friday, July 13, their Bicentennial weekend officially began as everyone joined the Third Maine Reenactors and the Cub Scouts at the foot of the Monument Hill Trail. Once all had assembled, they hiked up to the Peace monument erected by native son O.O. Howard and his brothers to honor the men from Leeds who died one hundred and forty years ago. | |

The Third Maine was organized in May of 1861, its soldiers recruited from the area around Leeds. Most of those who served died in the ferocious battles this regiment fought at Fair Oaks, Fredericksburg, Gettysburg and at least twenty-five other major sites. For the weekend encampment, the Third Maine was joined by the Sixth Maine Battery re-enactors, who added color and cannon fire to the festivities.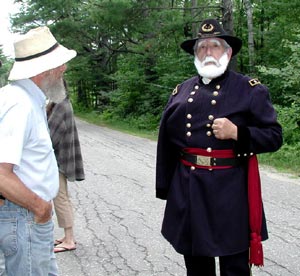 After the brief ceremony on Monument Hill, all proceeded to the Leeds Central School, where Civil War historian Charles Plummer, assuming the persona of General Oliver Otis Howard, regaled several generations with stories of the battles and the aftermath. Plummer, who will be teaching a course on ideas of Abraham Lincoln and the civil war at Auburn Community College in the fall, shared his feelings about the importance of the war in national history. "This country would never have become the wealthy and powerful country it has become if the Union had not been preserved. General Lee, the southern commander, contributed immeasurably to the peaceful transition after his surrender. This gallant gentleman refused to be drawn into a guerrilla warfare that would have left the country in chaos"

Indeed, General Howard's most important battles may have been fought in a different arena. After the war, as Commissioner of the Freedmen's Bureau , he was responsible for integrating the newly freed African Americans into a way of life that was alien and often hostile. There is no doubt he practiced what he preached. He brought his aide George Washington Kemp to Leeds to start a new life. On Saturday, one of Kemp's descendents Elaine Bragdon exhibited her family's historical collection at the school and shared memories and lore with visitors.
| | | |
| --- | --- | --- |
| Leeds Historical Society float in the Grande Parade. Our thanks to President Marilyn Burgess for all the pictures, explanations, and reports on these events. | | The closing ceremony at the Veteran's Monument at Leeds Center. Karl Gustafson, Minister of the Leeds Community Church and the 6th Maine Battery Color Guard. |
Be sure to return for commentaries and memories from the participants in this once-in-a-century community celebration.
---
HOME