JARED POTTER KIRTLAND: A Young Scientist Goes West (1810)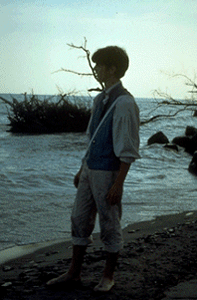 Two hundred years ago, in 1810, a seventeen year old Connecticut boy was packing his saddlebags for an urgent trip to the western frontier. Such journeys to the Great Lakes before the War of 1812 were still dangerous and it now seems astonishing that a number of teenagers made the "tour." (See our earlier story ["Two Tours to New Connecticut."])
Henry Leavitt Ellsworth and Margaret Van Horn Dwight also travelled to Ohio in 1810 - 1811, mainly for the sort of "coming of age" adventure that inspired European youths to tour Paris and Rome. But Jared Potter Kirtland was called west because his father, who had moved to the frontier, was thought to be close to death.
The son of Connecticut land developer Turhand Kirtland, young Jared had been named for his maternal grandfather Jared Potter, a distinguished physician and amateur naturalist. In 1803, when his own parents and younger siblings moved west to his father's new town of Poland, Ohio, Jared was already old enough to go to school. Since there were no good schools established yet on the New Connecticut frontier, he stayed behind with the Potters in Wallingford.
In 1810 word arrived that his father was ill and the family needed help. Jared Kirtland, then aged seventeen, travelled west with Joshua Stow, a colorful land developer who had handled the commissary for the Connecticut Land Company survey expedition, gaining a reputation as an excellent rattle-snake chef . In New York State, the party took on Stow's sister's boy, young Alfred Kelley, who would later supervise the building of the Ohio Canal. When the group arrived at Buffalo, Jared Kirtland - already a naturalist, eagerly examined the Lake Erie fishermen's catch and expertly dissected them.
A legacy from his grandfather made it possible for Kirtland to attend the University of Edinburgh but that plan went up in the smoke and cannonfire of 1812. Fortunately Yale College opened a medical school the following year and Kirtland was accepted into the first class. In 1814, he married the spirited and independent Caroline Atwater, who actively resisted moving to the Ohio frontier. Eight years after Kirtland set up practice in Durham, the young family's happiness was shattered by the death of their daughter from typhus; within months, Caroline also died despite Kirtland's efforts to save her. Despairing and unsure whether he would ever practice medicine again, he moved the rest of his young family to Ohio. According to family legend, he was immediately called out to tend a sick child.
Despite the difficulties of conducting scientific investigations in primitive frontier surroundings, isolation from colleagues and a lifelong struggle with self-doubt, Jared Potter Kirtland helped found two medical colleges and a natural history collection, and almost single-handedly catalogued the birds and fishes of Ohio for the first biological survey of the major state. A contemporary of Agassiz, Audubon and others then engaged in documenting and classifying the plants and animals of North America, Kirtland made one important scientific discovery that brought him national attention. His observation that fresh water molluscs called "unios" have distinct sexes, which had been mistakenly classified as different species, was disputed at first by the authoritative Assistant Secretary of the Smithsonian Institution, who years later expressed his belated respect for Kirtland's work by giving his name to a specimen warbler the naturalist had been the first to collect and classify. Today, Kirtland's Warbler is an endangered species sometimes known as the "Bird of Fire" because the life cycle of its chosen Jack Pine habitat requires periodic burning - and few protected stands of these trees remain where controlled burning can be safely conducted. Although Kirtland could not have imagined the international attention this bird would one day attract, his memoir of species found on his first trip to Ohio in 1810 (written in 1851 when many had already disappeared) foreshadows our own concern with biological diversity.
---