NEW LONDON CONNECTIONS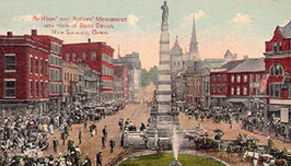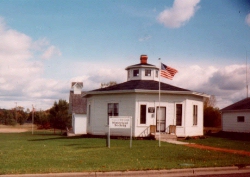 Commemorating its 350th Anniversary, New London, CT, reached out to other New Londons around the country.
NEW LONDONS "THEN AND NOW"
Were all the later New Londons patterned after - or founded from - the first? Click on a state square to find out...
CT | IA | IN | MN | MO | NC | NH | NY | OH | PA | TX | WI
NEW LONDON, CONNECTICUT WELCOMES YOU!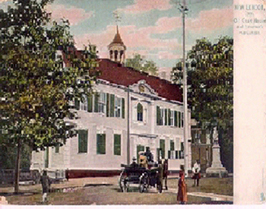 In 1996, New London, CT celebrated its 350th birthday. The first house seems to have been built in 1637, the year in which English colonists, under Capt John Mason, subdued the powerful Pequot Indian tribe. In 1646, John Winthrop, Jr. and other proprietors from Massachusetts Bay secured title from England to a part of the Pequot hunting grounds at the mouth of the Thames River and settled there. Originally, they took the name given to the place by the Indians - "Nameaug," or called it "Pequot." On 22 February 1648, the town recorder wrote:
"The inhabitants of Pequit plantation have chosen by a joynt consent Mr. John Winthroup, Robert Hempsteed, Carle Latham, John Stubens and Thomas Minor for this yeare following to act in all towne affaires as well in the disposing of lands.... The same day the inhabitants did consent and desier that the plantation may be called London."
New London's history as a major port, a center of entrepreneurial commercial endeavor and, not incidentally, of religious dissent, is told in other pages in this special feature from the ROOTS & ROUTES archive. Meanwhile, here are some more glimpses of New London "then," courtesy of the Charles E. Shain Library, Connecticut College.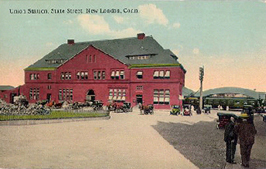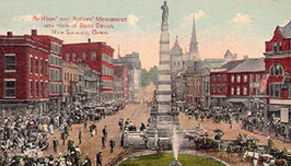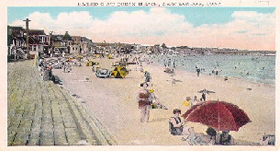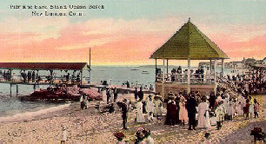 ---