VINTAGE BASE BALL: Then and Now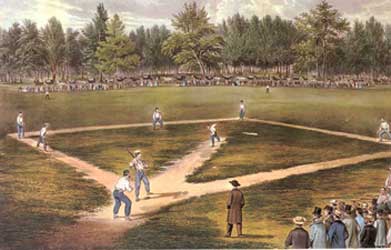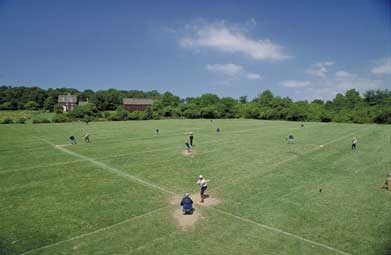 Vintage Baseball (oops! Make that Vintage Base Ball!) is sweeping the country; teams are at play from Connecticut to Colorado and the sport is growing so fast it's hard to find a single authoritative list of all the teams. The best place to find a game is through the VBBA Vintage Base Ball Association website. But before you go,here's some background on the national game - then and now.
THEN:
All vintage players are re-enacting, and celebrating, the history of America's Great Game. For those interested in baseball during the "formative years" (Colonial days to 1900), Andy "Freight Train" Akers has reprinted online the beginning of David Quentin Voigt's Historians generally agree that our national pastime is based on Rounders, a game still played in England today. According to Wikipedia, "the game originated in England and has been played there since Tudor times, with the earliest reference being in 1745 in ' Little Pretty Pocket-Book' where it is called "baseball". Rounders is still played in England and Ireland by young people - mostly girls. Read more about baseball, rounders and cricket on the Seattle Cricket Club site.
Also read: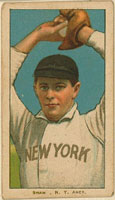 Explore a Timeline of significant moments in the history of the baseball uniform. View images of every major league uniform worn since 1900. Baseball Hall of Fame special online exhibit.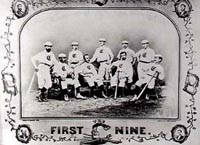 Stats? What stats? Before 1900, teams kept no official records, and were proud of it. But today, teams do list their standings and baseball statistics going back to 1900 are appearing on the WWW. See "The Century at a Glance: A Graphical History of Baseball" at Michael Bein's "Home Plate."
"Catfish, Mudcat, Ducky, Coot"….Nicknames were as common as the home run is today. William "Sugar" Wallace even made a poem out of them, published online by Baseball-Almanac.
When did the Ladies start to play? Earlier than you might think. (Women's base ball predated the "suffragettes" by nearly a century!) See VBBA's "Ladies Vintage Base Ball" page for pictures and history.
NOW:
The current revival of Vintage Base Ball started in Ohio – no, wait a minute! It was Old Bethpage. According to Matthew Boyle, writing in Fortune, September 2, 2002, "Vintage base ball players tend to agree on little, but there's a consensus that the first game was played in 1980 at Old Bethpage Village on Long Island. The following year Amos Loveday at the Ohio Historical Society in Columbus founded the Ohio Village Muffins…". These teams traveled in search of opponents, introducing the game around the country and inspiring other teams to form. Read more about the early days of base ball re-enactment in About Vintage Base Ball from the St. Croix Base Ball Club, and the Ohio Village Muffins page.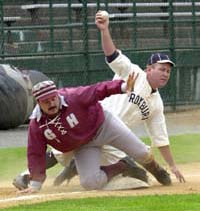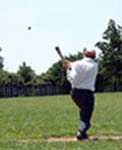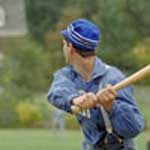 Today, New York and Ohio still lead the pack (with ten teams in two leagues fielded by Old Beth Page Village alone) but according to an expert on the game, there are now more than 120 vintage base ball teams – and countless more games are played on a pick-up basis at historical society and Civil War re-enactment events.
The lay-out of the vintage field is not so different from modern fields in dimensions, but there are some important distinctions. Bases are placed 30 paces (75 feet for men, 60 feet for ladies) apart. Games are usually played on grass, without any dirt cut-outs between the bases. The hurler's position is a 12-foot line drawn with chalk or flour, perpendicular to and 45 feet from home (36 feet for ladies.) There is a similar line of 6 feet drawn through home base. If practical, a chalk or flour line is drawn between home and first base and home and third base to help delineate the foul lines. There is only one umpire and he normally stands in foul territory about 10 feet from home plate. A diagram of the playing field is part of this illustrated proposal for a vintage baseball field at Colt Park in Hartford, CT.
Rules vary according to the year being re-enacted. For a quick summary of the changes from year to year, see the New York Mutuals compilation of Rules and Differences. According to an observer from the Ouray County Historical Society, because the "striker" is "dead" if the ball is caught on the fly or on the "first bound" off the ground, today's tendency to hit "cloudhunters" is misplaced in the vintage game. Instead vintage players try to hit "daisy cutters" which are difficult to field without mitts.
The fact that so many pitches are put into play makes vintage ball scrappier, and faster than modern baseball games. Most vintage games take only an hour and a half to two hours. According to Ken Bascom, who directs the Old Bethpage Village program, the game is shorter "because play continues mostly uninterrupted by warmups, throws to hold the runner on, breaks between innings, etc. Also the approach was more direct by the pitcher, less careful pitching and looking in for a sign---over 9 innings this adds up!"
If we've forgotten anything, you can probably find it in the Milwaukee Cream City's Handbook.
Re-enactment--Or Competition?
Both, of course. But how much of a vintage game is thespianism and how much is playing to win depends on the team – and the audience. Clubs comprised mainly of re-enactors, historians, or museum staff are likely to be most interested in putting on an authentic show – and have the costumed friends and colleagues to bring period finery to the grandstand seats. Those with a higher percentage of experienced players (and self-described baseball "nuts") are in it for the game. Both relish the pure fun of non-commercial, non-professional play. And most teams pay serious attention to the authenticity of their uniforms, equipment and rules.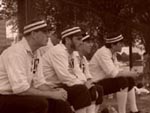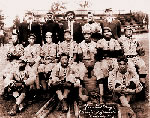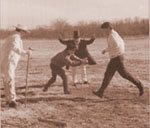 Bristol (RI) Blues ballists Jay "Navy" Rainer, Dr. Gregory Fox, Brian Hudak and Rusty Hayes ballists ((left to right in group photo, above left) are authentically dressed, but clearly intent on the play as they wait their turn at bat.

The Homestead Grays (center) were a famous Pittsburgh team whose barn-storming trips through Hartford are still fondly remembered by many older fans. When the Hartford Public Schools decided to re-create the team for competition as an homage to the Negro leagues, team captain Wendell Brooks located this early image of the Grays in the archives of the Carnegie Institute, and then had accurate uniforms made.

Lee Slider (umpire, right), originator and director of the Macon County (IL) Conservation District's living history program at Rock Springs, created both the vintage baseball program and his own persona. As "Joseph Trobaugh", the actual historical proprietor of Homestead Prairie Farm where the team's home games are played, Slider is now the team's virtual owner and assumes the role of umpire at every game. Here he is shown ruling on Ground Squirrel Robert "Playdirt" Grindy's safe arrival at home plate, before the ball reaches "behind" (catcher) Hal "Toad" Warwick.
Ouch!
Players may call each other "sir" and compliment an opponent's play, but this is not a sissy's game. A player was hauled off Schmitt Field in Rochester, MN, last year, and whisked to the Mayo Clinic, where doctors reset his dislocated shoulder. Broken fingers are an obvious hazard of the gloveless game. (At least now, the earlier practice of "soaking" (hitting the runner directly with a thrown ball) is no longer a legal "out."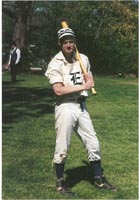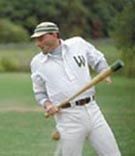 No kneepads - and no gloves, hats, or aprons, please.
(See the bare-handed catch in the Ladies' Section below.)
The Guys of Civility: Each game begins with a polite toss of the coin or the bat. During play, the contact is more often horizontal.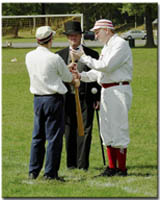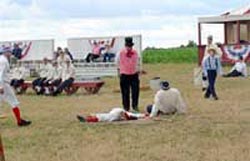 Ladies (and other people) on First:
As the game spreads and grows in popularity, it also gains diversity. Many clubs are now playing by later rules; some annual exhibition games portray a different era every year. Women play as members of mainly male teams, and also form teams of their own. Likewise, some black players are part of Clubs Nine that would have been all white in 1858, while others are forming shadow teams that pay homage to the achievements of the Negro Leagues of the 1930's and 1940's.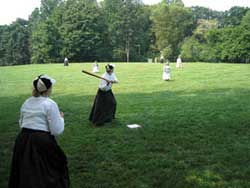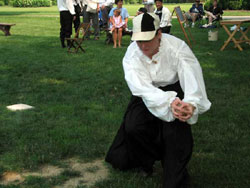 Most regular ballists are between 15 and 70, but younger students are eagerly taking up the sport.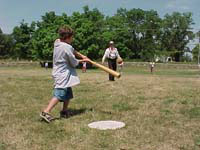 The Rochester Grangers recently lost a demonstration match against the Brewster Elementary Third Graders 134-0.
At vintage games staged by Civil War re-enactors, the "mascot" may carry a bat or a drum.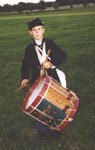 ---