HOW TO WATCH A GAME
"Cranks" (or, spectators) have lots of fun – especially if they understand the game, have a sense of history and a sense of humor.

This little primer will help you participate (and behave with proper decorum).

What to Yell:




We're not sure that these ballists are actually cheering here. But cranks should only shout "HUZZAH!" (or possibly Hurrah!) Why not "hurray?" The First Foot Guards, a Boston-based Rev War re-enactment group, will explain.

What to Wear:




Be sure to dress the part if you possibly can. It does mean covering up on a hot day – but games are short and maybe you can serve lemonade. Ladies, try parasols and fans. Gents: the umpire sets the style.
How to Act (or Re-Enact):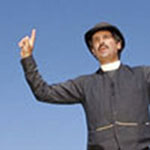 Rule One: Mind the Umpire. "Umpire" is one of the few terms that have remained the same from the 1800's to today. But the umpire's role –and costume-have changed dramatically. Formally dressed in top hat and frock coat, the umpire provides a model of decorum and is obliged to levy fines for rude behavior both in the stands and on the field. (Note of caution: Since they pocket the change -often on behalf of their teams - some umps spend more time watching your language than watching the ball.)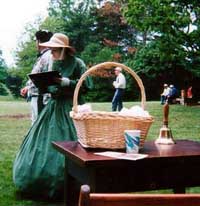 Rule Two: Keep Score (if invited). Seasoned fans like this Ohio belle may be asked to attend the "Tally Table", such as this one at Shadybrook Field in Kirtland Hills, OH. (If selected, be sure not to directly address or otherwise distract the scoring player. He might forget to ring the bell!)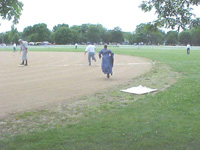 Rule Three: Beware the chowhound! Take utmost care when passing the funnel cake. This young lady's father was fined for her carelessness!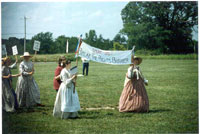 Rule Four: Avoid Unseemly Demonstrations. There is no word on how much a group of ill-mannered Suffragettes were fined for parading their placards during play.
To prevent this kind of behavior, gentlemen escorting young ladies to the match should take pains to interest them in the game. This article, "Theory of the Game -- For the Ladies," by Project Gutenberg, should help. Barnard College, American Studies resources.
---
Back to the Vintage Baseball Feature...
---